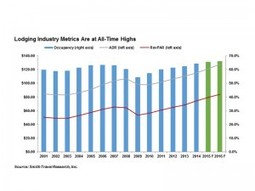 Although lodging fundamentals have remained strong for several years, record occupancy levels and supply coming online indicate the cycle is nearing its end.
Source: www.cpexecutive.com
Lodging occupancy rates reached an all-time high in 2014 at 64.4 percent, and a modest increase of less than 1 percent in 2015. However, new supply expected over the next 12 months may result in occupancy rates reversing course and beginning to decline. ADR will continue to drive RevPAR growth through 2016 as the pipeline for new product is extremely robust in many markets.