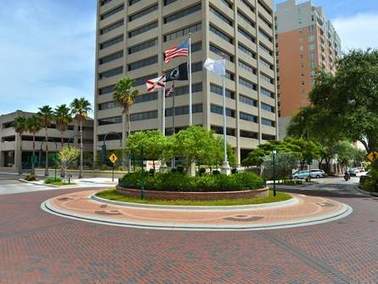 SARASOTA – It's no surprise immense growth is coming to downtown Sarasota, but the comprehensive picture of new hotel and residential development entails staggering increases headed to the heart of the city in coming years.

City economic and planning leaders detailed planned development for the Downtown Sarasota Condo Association on Tuesday night, amid several questions from downtown residents about just how much growth the city can stomach.

For starters, hotel projects under construction or approved by the city will add 1,000 more rooms to the nearly 2,000 already in the downtown area, said Virginia Haley, president of Visit Sarasota County.

That will mean the city must generate about 125,000 additional visitors each year to sustain its current occupancy levels, she estimates.

"Before anybody complains about traffic, let me share with you that my hotel occupancy on weekends in July is the same as it is in March," Haley said. "But I don't have a lot of traffic complaints in July, because our seasonal residents aren't here."

But the number of residential units, either rentals or condominiums, will increase by even more, said Norm Gollub, downtown economic development coordinator for the Greater Sarasota Chamber of Commerce.

About 6,500 residents live in about 4,100 downtown apartments and condos now, he said. More than a dozen additional projects on the way will add another roughly 3,200 residential units to the area, possibly bringing as many as 5,700 new residents downtown, he estimated.

"Much of this is the result of pent-up demand from the recession," Gollub said. "I don't honestly know how much. Once some of these projects are complete, market demand will drive the other projects, but we'll see."

A U.S. Census Bureau study released last week revealed the Sarasota metropolitan area is the 11th-fastest growing metro area in the country, with Sarasota and Manatee counties adding more than 20,000 people between mid-2014 and 2015.

Last year, the city of Sarasota processed a record number of building permits — about 8,400 permits with a total construction value of about $350 million, said Gretchen Schneider, the city's general manager of planning and development. Many of those are single-family home renovations that owners are now able to tackle as the economy rebounds, and the city is already on track to break that record number of permits again this year, she said.

Despite the surge, Sarasota is only just now approaching its pre-downturn population of about 55,000 residents.

"We're still not back to where we were in '07," Schneider said. "Yes, it's increasing, but it's not going to go gangbusters."

All that growth has caused its share of issue and consternation among local residents, who most often gripe about traffic congestion and the changing skyline. But the city and Sarasota County are working through those issues, with plans to add more than a dozen roundabouts throughout downtown to eliminate lengthy traffic signals and re-instituting suspended impact fees to try to fund improvements and slow the rate of growth.

"Sarasota is becoming an urbanized community with the rules put in place 20 years ago that allowed this," Gollub said. "What's being done now is the struggle of keeping the community vibrant and alive, not overwhelming. … It's not the Sarasota of our youth, but with our help, our guidance and our input, we can make it the Sarasota that's sustainable."
Source: www.heraldtribune.com
SARASOTA – It's no surprise immense growth is coming to downtown Sarasota, but the comprehensive picture of new hotel and residential development entails staggering increases headed to the heart of the city in coming years.
City economic and planning leaders detailed planned development for the Downtown Sarasota Condo Association on Tuesday night, amid several questions from downtown residents about just how much growth the city can stomach.
For starters, hotel projects under construction or approved by the city will add 1,000 more rooms to the nearly 2,000 already in the downtown area, said Virginia Haley, president of Visit Sarasota County.
That will mean the city must generate about 125,000 additional visitors each year to sustain its current occupancy levels, she estimates.
"Before anybody complains about traffic, let me share with you that my hotel occupancy on weekends in July is the same as it is in March," Haley said. "But I don't have a lot of traffic complaints in July, because our seasonal residents aren't here."
But the number of residential units, either rentals or condominiums, will increase by even more, said Norm Gollub, downtown economic development coordinator for the Greater Sarasota Chamber of Commerce.
About 6,500 residents live in about 4,100 downtown apartments and condos now, he said. More than a dozen additional projects on the way will add another roughly 3,200 residential units to the area, possibly bringing as many as 5,700 new residents downtown, he estimated.
"Much of this is the result of pent-up demand from the recession," Gollub said. "I don't honestly know how much. Once some of these projects are complete, market demand will drive the other projects, but we'll see."
A U.S. Census Bureau study released last week revealed the Sarasota metropolitan area is the 11th-fastest growing metro area in the country, with Sarasota and Manatee counties adding more than 20,000 people between mid-2014 and 2015.
Last year, the city of Sarasota processed a record number of building permits — about 8,400 permits with a total construction value of about $350 million, said Gretchen Schneider, the city's general manager of planning and development. Many of those are single-family home renovations that owners are now able to tackle as the economy rebounds, and the city is already on track to break that record number of permits again this year, she said.
Despite the surge, Sarasota is only just now approaching its pre-downturn population of about 55,000 residents.
"We're still not back to where we were in '07," Schneider said. "Yes, it's increasing, but it's not going to go gangbusters."
All that growth has caused its share of issue and consternation among local residents, who most often gripe about traffic congestion and the changing skyline. But the city and Sarasota County are working through those issues, with plans to add more than a dozen roundabouts throughout downtown to eliminate lengthy traffic signals and re-instituting suspended impact fees to try to fund improvements and slow the rate of growth.
"Sarasota is becoming an urbanized community with the rules put in place 20 years ago that allowed this," Gollub said. "What's being done now is the struggle of keeping the community vibrant and alive, not overwhelming. … It's not the Sarasota of our youth, but with our help, our guidance and our input, we can make it the Sarasota that's sustainable."