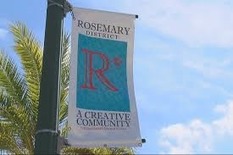 An area of Sarasota that was once run-down has come back in a big way. The Rosemary District has enjoyed lots of growth and transformation over the years. A new condominium development will be built right next to Citrus Square on Orange Avenue.
Source: www.mysuncoast.com
More development is on the way for the Rosemary distric in downtown Sarasota. The latest project is loacted next to Citrus Square on Orange Avenue. The 28 condos will be built in two phases and feature one and two bedroom units. It'll also have ground retail space for at least 8 businesses.
There are several new projects for the area including hotel, retail, for-sale residential and apartments. Vertica Partners and Framework Group recently broke ground on a 228 unit luxury rental community located on Fruitville Road which is expected to be completed by the end of 2017.