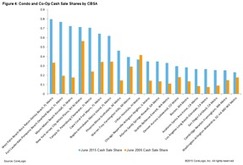 Source: www.corelogic.com
Condominium and co-op mortgage originations nationwide rose 31 percent to $39 billion in the second quarter of 2015 compared with $29.7 billion in the same quarter of the previous year. Vertica Partners believes that one of the keys to solving the housing affordability issue is to provide more condo financing for projects.
The last boom saw a massive condo conversion wave where rental apartments were converted to condos at an unsustainable pace. Because loans were virtually handed out to anyone that could fog a mirror it was not uncommon for "investors" to own dozens of units with little to no skin in the game. The problem wasn't that condo conversions are necessarily a bad thing, it was the manner in which they were completed and the frenzy that ensued.
When done in an orderly fashion with real lending standards in place, condo conversions could be a viable strategy for those just starting out or empty nesters looking to downsize in well located communities offering maintenance free lifestyles.