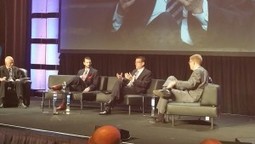 At the annual MFE conference, experts assessed the economic and demographic trends influencing multifamily development and investment.
Source: www.cpexecutive.com
By mid-2016, the multifamily industry is on a pace to add between 280,000 and 300,000 new units of Class A product, the largest expansion since the mid-1980s. At the same time, however, Class A vacancy has remained virtually unchanged since 2013.
"Oversupply could be a significant issue in a couple of years" if the rate of household formation fails to keep up with new product, said Steve Guggenmos, senior director of multifamily investments and research for Freddie Mac. Another concern, he added, would be investment values that rise faster than rent growth.
Even though Class A supply may soon become an issue, the panelists noted, demographic and economic factors still appear to favor years of strong demand. By all indications, abundant capital will continue to flow to the sector and multifamily origination volume is climbing fast, from $190 million in 2014 to an estimated $225 million this year and $240 million in 2016