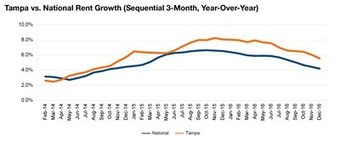 Robust investor interest and broad employment gains are driving demand across asset classes.
Source: www.cpexecutive.com
Tampa's multifamily market is healthy, displaying solid fundamentals and burgeoning rents. Robust investor interest and broad employment gains have driven demand across asset classes. A low cost of living, strong population growth and bountiful employment opportunities have increased occupancy rates and compressed rents, as average monthly rates reached $1,017 in December 2016.
While trade and transportation continue to fuel Tampa's economy, the business and professional services and health-care sectors are boosting job growth, too. Drawn to the region's spirit of innovation and support of STEM careers, major tech companies are relocating and expanding in the area, including Cohesion, a consulting and staffing company. Developers are active, acquiring large tracts of land in core areas, although current and planned projects are stretching to the outlying areas, as well. More than 80 projects are underway, representing a combined construction value exceeding $1.5 billion and including hotels, multifamily communities and office buildings.
However, affordable housing exists in short supply, despite Tampa's significantly lower cost of living compared to other major metro areas. Roughly $2.1 billion worth of multifamily assets traded in Tampa year-over-year through December, with the price per unit resting at $97,000, well below the national average