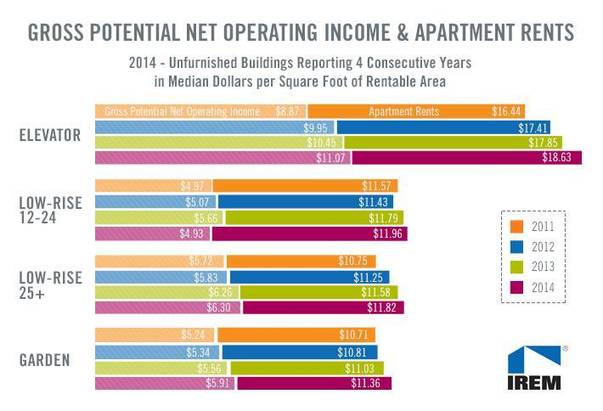 What amenities do you need for your multifamily properties? IREM has the answers.
Source: www.bisnow.com
What types of buildings offer the highest rents? According to IREM data, all four building types reported increases in gross potential apartment rents in 2014. Elevator buildingsreported the highest increase in gross potential rents, 4.4%, raising the rent/SF from $17.85/SF in 2013 to $18.63/SF in 2014. Low-rise buildings with 12 to 24 units increased from $11.79/SF in 2013 to $11.96 in 2014. The rents in garden buildings increased 3% to $11.36/SF, and low-rise buildings with 25 or more units experienced an increase of 2.1%, bringing rents to $11.82/SF.
This chart also reflects the NOI experienced by each building type. (NOI is defined as the income remaining after operating expenses Elevator buildings reported the highest NOI, rising 5.9% to $11.07. Garden buildings reported the greatest increase of 6.3%, from $5.56/SF in 2013 to $5.91/SF in 2014. Low-rise buildings with 12 to 24 units reported the lowest NOI, $4.93/SF in 2014. Low-rise buildings with 25 or more units reported a minimal increase of 0.6% at $6.30/SF in 2014.
The findings mirror the industry's migration toward more infill projects which typically are more dense and are taller. Rents have risen dramatically in many urban infill areas, however, the pipeline for new construction projects in many of these markets may slow the growth rate and increase occupancies so caution should be exercised in over saturated submarkets.