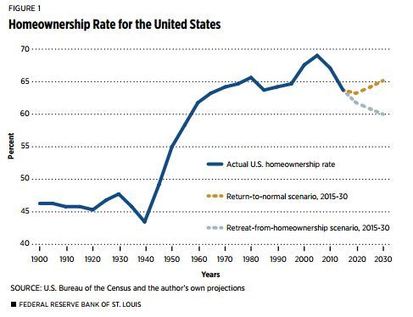 Why has the homeownership rate remained low while housing fundamentals continue to improve?
Source: www.dsnews.com
The nationwide homeownership rate sank to a 48-year low of 63.4 percent in the second quarter of 2015, however, by the end of 2015, the rate had clawed its way back up to 63.8 percent. That said, 2015 still represented the 11thconsecutive year of decline since hitting an all-time peak of 69 percent in 2004.
Where it will go next is still up for debate as some are calling the bottom now with an eventual leveling out to around 65% by 2030, while others feel the drop could continue to below 60 percent during the same time.
With nearly 135 million housing units in the US, both rental and owned, a 5 percent difference in ownership rate translates to more than 6.7 million people or more than 1.34 million for every percentage point change.
The rate, and where it is headed over the next decade, has a tremendous impact on both rental and for-sale housing across a wide variety of industries a demographies.