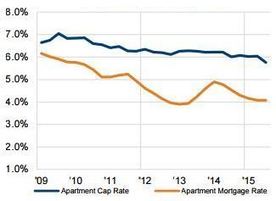 Despite mortgage rates rising, cap rates stay low.
Source: www.multifamilyexecutive.com
"The market cycle on apartment growth is maturing," according to a recent RCA report. "What had been double-digit price growth is slowing to more modest single-digit activity. In the current market, investors are now dealing with underwriting acquisitions in the face of growing competition from construction."
There is still plenty of capital chasing deals, however, there is a growing bid-ask gap in the marketplace as sellers are trying to price to perfection. Investors are anticipating a tapering of rent growth and potential decline in vacancies along with the possibility of rising interest rates. Something will have to give and only time will tell what that will be.